Myth: GigCX is simply another channel for brands to manage and monitor
Article |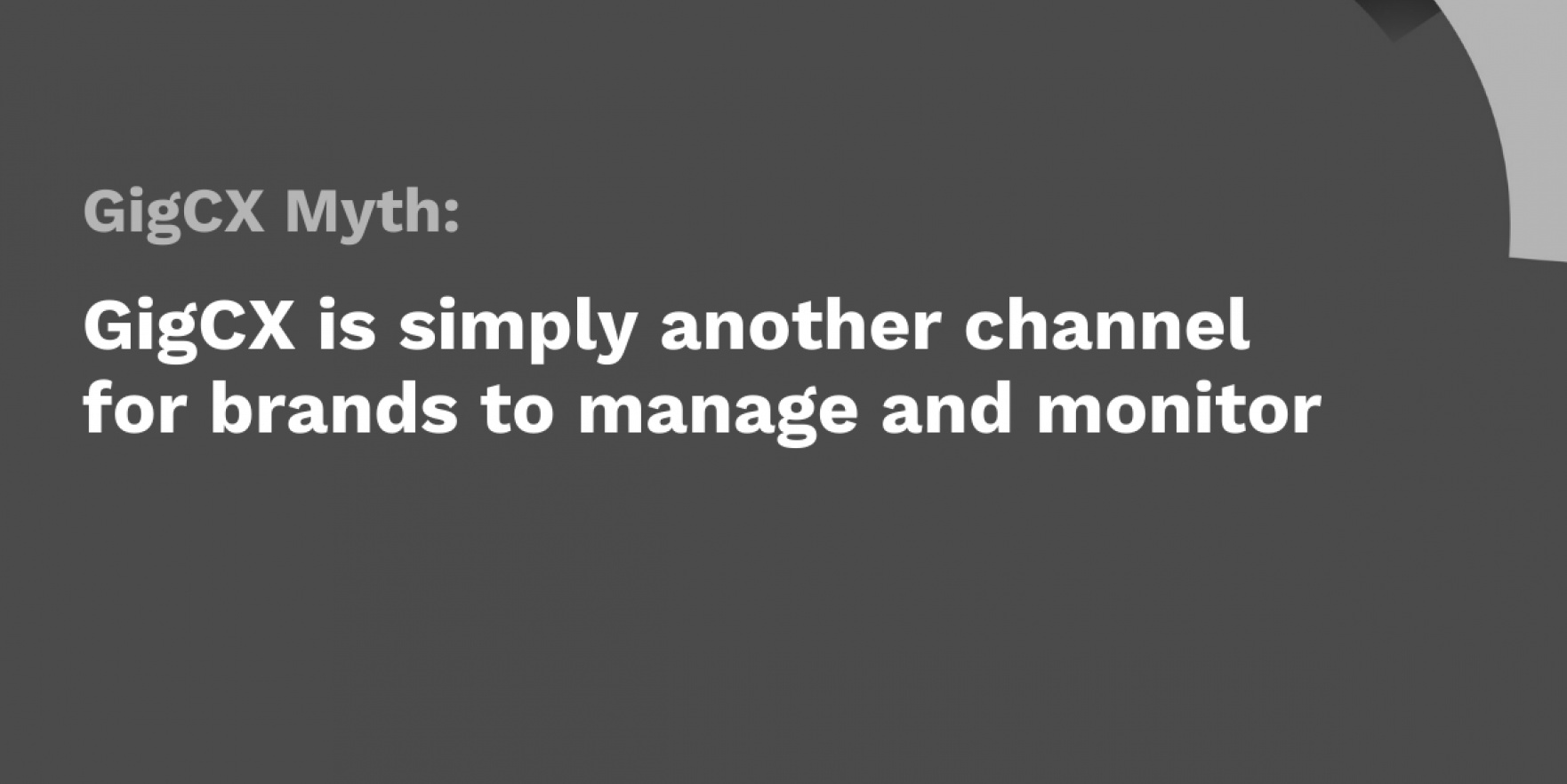 Welcome back for the final instalment in the GigCX Myth Busting Series, where we're putting the brakes on some of the biggest mistruths and rumors surrounding gig customer service, or GigCX, as it's widely becoming known in the industry.
We're turning the spotlight on the myth that GigCX is simply another channel for brands to manage and monitor.
Strength and quality - in numbers
So you've heard all the benefits and reasons why GigCX is important - the next question is how do you actually manage it? In a world where the CX industry is inundated with technology and gadgets and the need for interoperability against an ever-competing backdrop of IT programs the thought of adding in a new one can be overwhelming.
The reality is that GigCX is a new resource pool that will sit alongside your AI/Self-Serve strategy and your People strategy. You get all the benefits from what might feel like outsourcing with all the benefits of what is an in-house digital team made up of your own customers sat in the corner of your contact center - except they are not, they are at home or with their kids or studying or dealing with other work.
Flexibility and agility are at the core of what GigCX is about, and this extends to how it works behind the scenes. As with any new solution, a frequent worry is how it will be managed, and who will manage it.
But what is important to remember is that GigCX is built on collective, brand advocate manpower, rather than the efforts of a single employee who is battling to manage an ever-growing number of customer service enquiries. On the flip side, GigCX platforms also offer the power of choice to CX specialists who are able to select, filter, and manage jobs as they come in.
With an influx of queries distributed to knowledgeable brand representatives, GigCX platforms represent a new type of operational model that helps brands to deliver faster, better customer service, and to do so more cost-efficiently. In short, it puts people first - and in several ways. Not only does it offer truly personalized and insightful communication between customer and brand - giving them what they really want to know - but it also works in favor of already stretched operations teams who once winced at the prospect of managing greater volumes of customer enquiries.
Long gone are the worries of needing to manage and assign queries, along with the prospect of hiring for an expanding customer service team. GigCX has reignited what contact touchpoints are all about - offering time, and good old-fashioned customer support - without the hassle. With specialized GigCX agents on hand at all times via the Limitless platform, customer contact is no longer to be feared but embraced. What's more, brands can scale their teams in an instant without compromising on quality, and most significantly, without having to give a second thought at the prospect of searching for new contact center staff from scratch.
Onboarding with experts
But what's the impact of GigCX in practice? US e-commerce giant eBay has leveraged the power of GigCX by recruiting its most successful Sellers to guide those new to the platform. Having engaged with Limitless in May 2020, it is the perfect example of how the GigCX workforce can take the task of managing many thousands of queries into its own hands. What eBay has proven with Limitless however, is that giving power to those who know the platform most offers first-hand advice and empathy that traditional support might struggle to match.
GigCX offers a new dawn for the customer service model, giving customers access to an experienced range of experts seamlessly and with authenticity. Learn more about the Limitless GigCX offering via our website.