Top 5 takeaways from our 2023 GigCX Report
Article |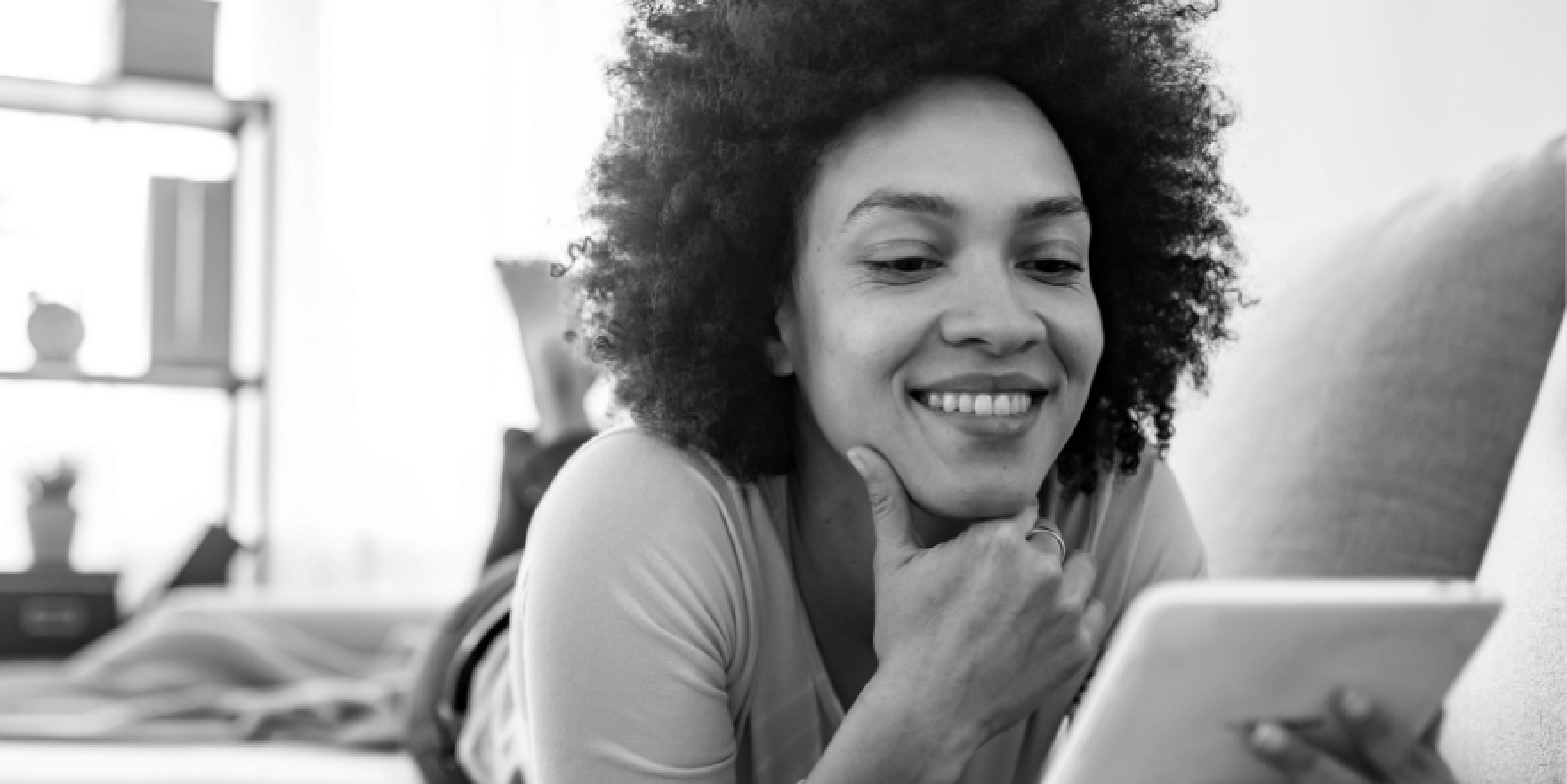 The customer experience (CX) industry continues to evolve with new technologies and ways of working. These create an opportunity for enterprises to advance all areas of the customer journey.
As GigCX continues to level up and mature in its ability to answer and resolve more complex inquiries, it is increasingly seen as a valuable part of the customer service model.
For our fourth-annual GigCX Report, we spoke with 17 CX leaders across several industries to get their thoughts on the state of the CX market and the impact of GigCX.
We also surveyed 400+ CX professionals across the U.S. and U.K. and 600+ GigCX Experts (i.e., those doing gig customer service) across 34 countries in six continents, including the U.S., U.K., Canada, Brazil, Australia, Indonesia, India, South Africa, France and Germany.
Here are 5 key takeaways from the report:
CX leaders are excited (but hesitant) about Generative AI
We asked CX leaders about the impact Generative AI (e.g., ChatGPT and Bard) would have on their approach to customer service. Not surprisingly, many were encouraged by the advancements in artificial intelligence (AI), but felt Generative AI still lacks the necessary capabilities to be useful to the CX industry.
Of the CX leaders we surveyed, 32% felt Generative AI is a major advancement in AI, but the impact on CX is not clear, while 18% felt the existing approach won't help CX leaders. However, once it is usable for CX, 24% of CX leaders said they would deploy it as soon as possible.
Interestingly, some CX leaders (15%) felt that, even if Generative AI were useful now to CX, it wouldn't replace the need for human support.
The importance of human connection and empathy in the customer experience cannot be overstated. GigCX Experts with real-world experience and knowledge of a brand's products and services are best suited to demonstrate empathy when assisting other customers.
Interest from enterprises in GigCX is at an all-time high
Over the past few years, awareness of and interest in GigCX from enterprises has trended upward, which continued into 2023. This year's survey found that 83% of CX leaders have already added – or plan to add – gig or freelance workers to CX operations in the next two years, up from 72% in 2022.
More and more enterprises recognize the impact GigCX can have on their business results, including improved customer satisfaction, greater agility to adapt to changes in contact volume, faster response times, and decreased costs.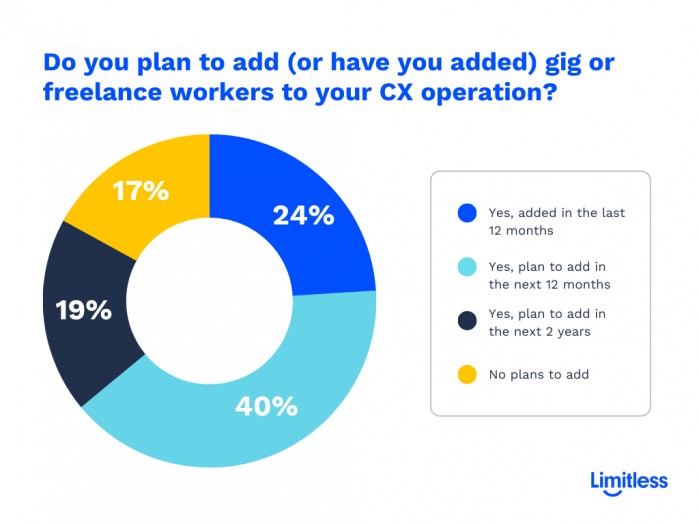 Access to talent continues to be a challenge for CX leaders
This year's survey revealed that CX leaders' greatest cause for concern regarding service staffing in 2023 is the demand for flexible working (29%), followed by difficulty hiring in physical contact centers (18%), and a shortage of talent in the workforce marketplace (17%).
Most CX leaders are seeing the need to offer hybrid working models, where employees can work from home and from a physical location. In fact, 82% of the CX leaders we surveyed said they have or recognize the need for alternate working models.
When asked what the biggest struggle is when adapting to hybrid working models, 39% of CX leaders said developing new skills within management to adapt to a remote or hybrid workforce.
Human connection is more important than ever
There's no question that automation, when done right, can help improve the customer experience. However, CX leaders were split on the value they bring to the customer experience.
When asked how chatbots have impacted the customer experience:
36% of CX leaders said chatbots are a huge success providing excellent service and diverting customers from human-based service in the contact center.
39% said they felt disillusioned with chatbots, that they were a failure, required work, or are more trouble than they are worth.
25% said they felt chatbots were delivering necessary automation, but weren't preferred by customers.
While chatbots and other automated technologies do offer some business benefits, consumers wholeheartedly prefer a human connection in many cases.
In fact, when their relationship with the company is in jeopardy, 76% of the consumers we surveyed for this year's report said they would prefer to chat with a human.
When considering a new product, 66% of consumers said first-hand advice from someone who has used the product (i.e., GigCX Experts) would help them decide when buying a new product or service, and 49% said human contact was preferred over a chatbot or machine.
Additionally, 76% of the consumers we surveyed said they would be more likely to buy a product if they had talked to a GigCX Expert before purchasing.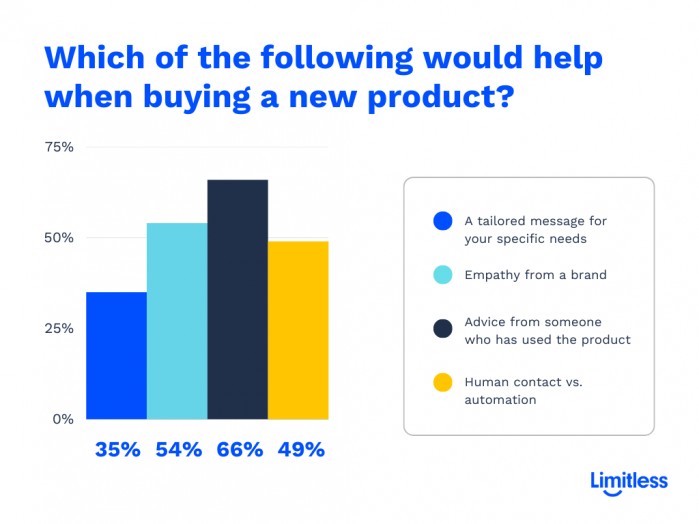 Enterprises are more open to GigCX handling advanced support queries
Historically, enterprises have viewed GigCX as a great way to handle basic customer inquiries that don't require access to company systems and customer data. However, in 2023, we are seeing a shift in this perception.
When asked what types of customer inquiries they felt gig or freelance workers could support, a quarter of CX leaders (28%) said advanced technical support (that requires secure access to customer data), up from 17% in 2022.
While that's certainly not the majority, it's evidence that the attitude about what GigCX Experts can do is shifting.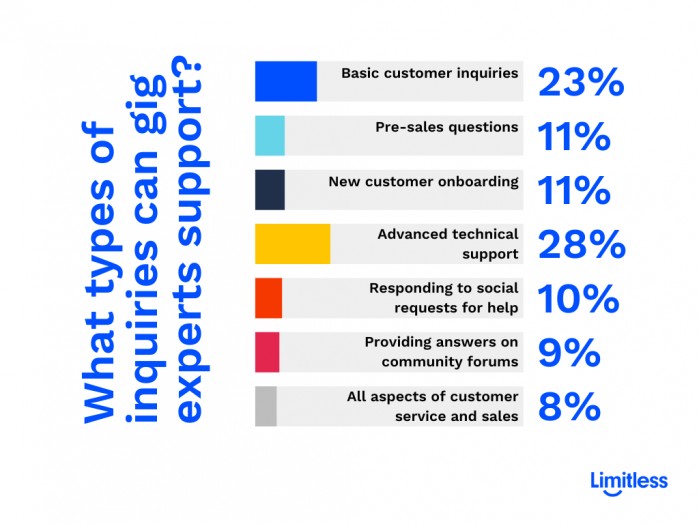 Additionally, 88% of GigCX Experts we surveyed felt they can take on more advanced queries in the future, such as providing refunds, moving addresses, order updates, order processing.
With the Secure Access capabilities of the Limitless GigCX platform, enterprises can now leverage GigCX across their entire CX operation. Secure Access enhances security across gig customer service and enables GigCX Experts to do anything an agent can – handling PII and securely accessing systems containing customer accounts and orders. This is an advancement in what GigCX can do and now opens enormous possibilities for organizations wishing to find talent that can handle more complexity.
Leveling up with GigCX
As we move forward, our goal at Limitless is to continue pioneering the customer service landscape, meeting the increasing complexities with innovative, efficient solutions that redefine talent sourcing and customer support.
Want to learn more? Download the 2023 Gig Customer Experience Report, or contact our team of experts.