GoodGig is good for business
Article |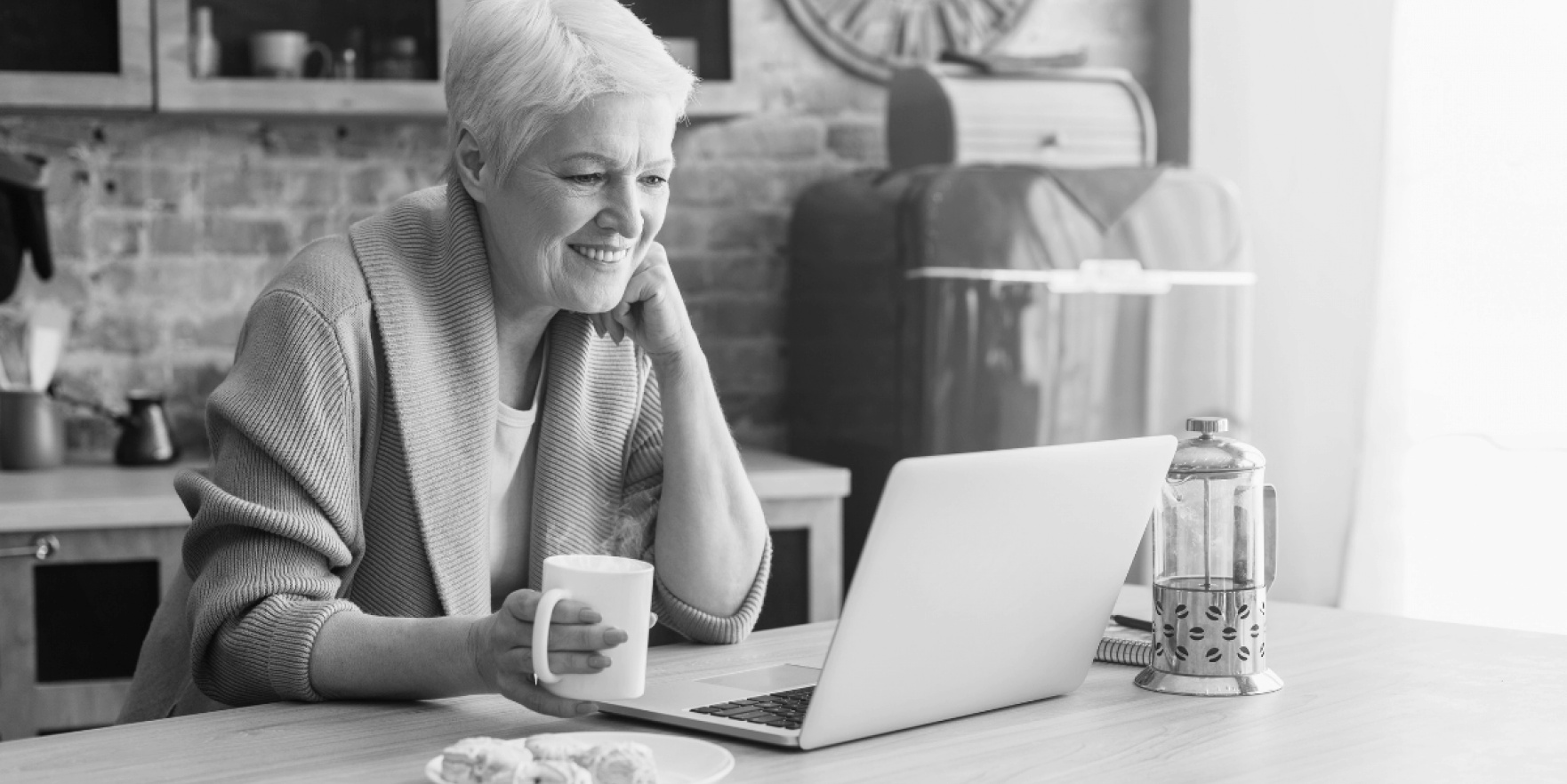 The gig economy has transformed every industry it has touched, changing the way businesses operate and serve their customers.
Gig is new and in its early years, companies erred, holding the gig community to the same standards as employees, yet not rewarding them the same or, in some cases, less.
For example, popular ride sharing companies paid gig drivers less than fair rates and required them to work a set amount of time and make significant upfront investments to operate. This resulted in major legal challenges, and these companies received significant criticism for their misstep.
Despite changes in legislation intended to protect the gig community, some gig-based companies in the CX space don't have the well-being of the gig community at heart.
A Better Way: GoodGig
At Limitless, we've made it our mission to empower anyone on the planet to earn money for providing brilliant customer service for brands they love. We call these individuals GigCX Experts.
In fact, some of the world's largest brands use gig customer service, or GigCX, to crowdsource their customer experience to their most passionate and knowledgeable customers who can provide support on their behalf.
At our core, we believe in protecting and advocating for the gig community, and we created our GoodGig charter to help guide our actions and attitudes in how we treat the gig community.
What is GoodGig?
GoodGig® is a "code of conduct" adopted by gig-based organizations, like Limitless, who believe in protecting the gig community and paying them as fairly as their contract-based equivalents. GoodGig companies embrace attitudes and practices that positively impact the gig community.
Why is GoodGig important?
Following GoodGig practices benefits both the gig community and the businesses that rely on giggers.
GoodGig protects freelancers
According to most legislative bodies, members of the gig community are considered freelancers. As freelancers, they are afforded certain protections by law that are different from those of an employee.
GoodGig ensures that freelancers' rights are protected. It protects their freedom to choose what work they want to take on, when and where they want to do their work, and how much work they want to do. It protects them from unfair punishment and commitments. It ensures they aren't exploited by the businesses that rely on them.
GoodGig protects your business
Freelancer legislation varies in each country, so businesses like yours need to ensure they are compliant wherever the members of their gig communities reside. Otherwise, they could be subject to serious legal and financial challenges.
To remain compliant with local legislation, businesses need to treat members of the gig community as freelancers, not as employees.
Employee vs Freelancer
Employees enjoy the benefits of full-time employment, including a fixed salary, health care, retirement, etc. At the same time, they are required to work a set number of hours, on a specified schedule, and from a pre-approved location.
Freelancers, on the other hand, don't receive employee benefits. But they have more flexibility to decide when they work, where they work, and what they work on.
We've put together a freelance status checklist, which provides guidelines for how freelancers should be allowed to work: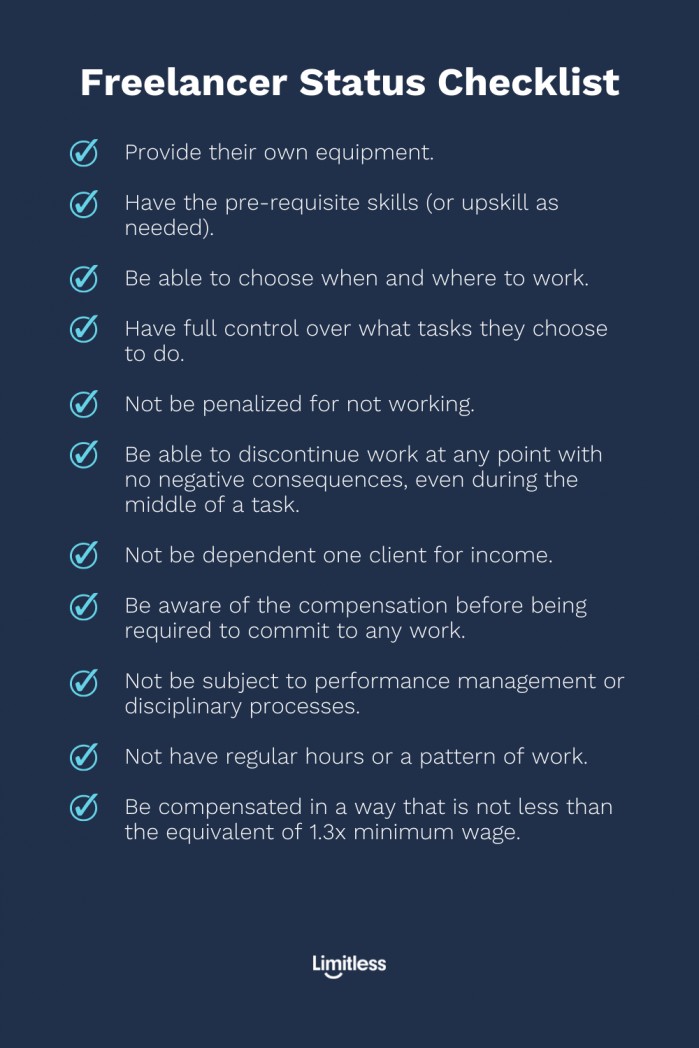 Customers benefit from happy and helpful gig communities
Protecting the gig community and ensuring they are treated fairly ultimately means they are happy doing what they love. This manifests in better customer experiences and happier customers.
How to Practice GoodGig in Your Business
Putting GoodGig into practice in your business starts with finding the right GigCX provider whose attitude and practices are focused on protecting the gig community.
At Limitless, we protect freelancer status in every market where the gig community operates. In addition to Limitless' global and local terms and conditions, which GigCX Experts agree to and are underwritten by PWC, we follow 8 guiding principles to ensure GigCX Experts are treated fairly.
Champion Diversity & Inclusivity
We ensure everyone is welcome with no barriers to entry or bias. The GigCX Experts on the Limitless platform come from 30+ countries and speak 15+ languages.
Reward Fairly
Rewards are fair in each local market and paid in local currencies. We seek to ensure that GigCX Experts are rewarded fairly for their time. In fact, Limitless pays on average 1.3 times more than regional agent salaries for GigCX Experts.
No Pressure
Experts have complete flexibility, no schedules, commitments or penalties. They have the freedom to choose whether to take on tasks or not.
Encourage Independence
We promote financial freedom from the platform through other earning opportunities. Unlike many gig models, such as delivery or taxi services, where those who gig may eventually begin to gig on a full-time basis for one company, Limitless does not encourage people to gig full time with us. The GigCX Experts on the Limitless platform average a few hours each week to supplement other income, with many gigging across several platforms so as not to place reliance on any one source.
Remove Barriers
We ensure there are no barriers to entry or exit from the Limitless platform, such as costly investments. Anyone with talent can easily access customer service tasks on the Limitless platform at the same time, as well as exit the gig platform without fear of penalties or the loss of significant upfront costs. This is in stark contrast to other services where "work from home" agents had to pay to work and were expected to shoulder startup fees and were let go without compensation.
Protect People
We are advocates for protecting GigCX Experts in any country through terms and conditions, which are compliant with local gig and freelancer legislation.
Flexibility / Choice
We ensure GigCX Experts can see tasks before accepting them and leave tasks for others to complete and share the reward, if necessary. Experts are not penalized for not taking on enough gig tasks. We ensure Experts are not treated differently based on the amount of gig tasks they take on.
Save the Planet
We focus on reducing the contact center carbon footprint by diverting more customer queries to on-demand GigCX Experts available anywhere in the world. Every 10,000 questions our gig experts answer equates to one less contact center seat per year.
According GigCX Expert Jo, a travel agent who answers customer service queries for Microsoft and Xbox, GigCX has helped provide a flexible, additional source of income during the challenging economic times experienced by many during the pandemic.
"I tend to respond to gig tasks in the evenings, or if I have time on my lunch break, or even on weekends. That's why I love it so much - it's just so flexible. I frequently help with a range of account and subscription-based questions. I tend to log on most days, even if it's just for an hour or so, either from home, or if I'm out, from the app on my phone. I love that the gig tasks don't tie you down to any particular hours - you're not told you have to do a certain amount a week. The flexibility is amazing."