The future of AI: A Q&A with Katie King
Article |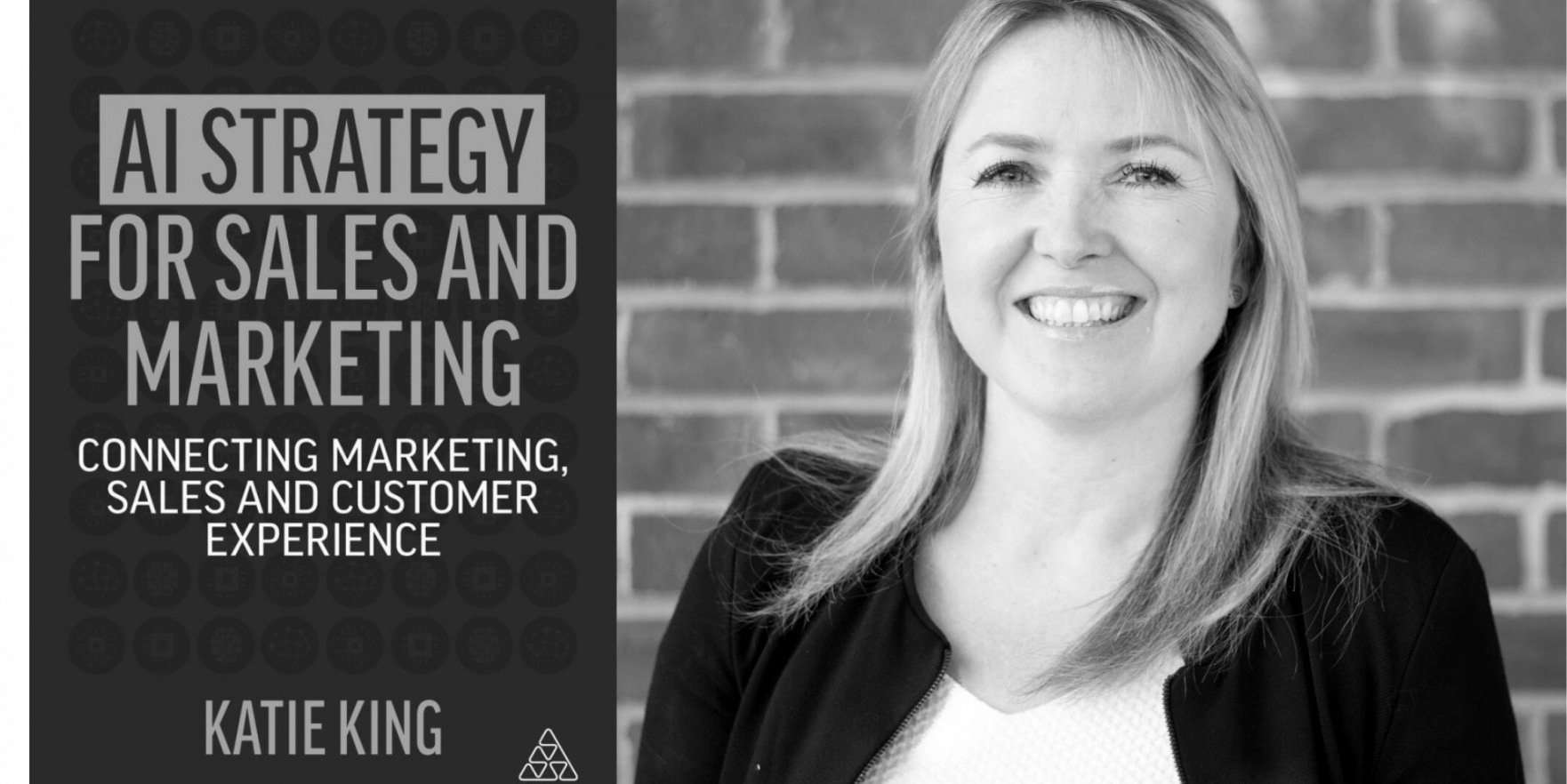 Katie King is CEO of AI in Business, a firm that specializes in AI consultancy and training. With over 30 years' experience, she has advised many of the world's leading brands and business leaders, including Richard Branson/Virgin, o2, Orange and Accenture. A regular international keynote speaker, she has also delivered TEDx talks and is a frequent commentator on BBC TV and radio.
Our innovative pilot with Nissan has been featured in Katie's new book 'AI Strategy for Sales and Marketing: Connecting Marketing, Sales and Customer Experience.'
For those that are not familiar with you and your work, can you tell us a bit about yourself and the work that you do?
I am Katie King, and I am an author, consultant and keynote speaker on artificial intelligence and business transformation. My background and most of my career has been spent in marketing and communications, having run my own digital agency for over a decade. I have over 30 years of consulting experience and has advised many of the world's leading brands and business leaders, as well as numerous schools, universities and colleges.
I have published two books on artificial intelligence in business. The first, Using Artificial Intelligence in Marketing, was published by Kogan Page in 2019 and has since been translated into five other languages and listed as a reference source in the Brand Strategy section of the
World Economic Forum's Empowering AI Leadership AI toolkit for corporate boards. My second book, AI Strategy for Sales and Marketing, has just been released worldwide and features case studies and interviews with some of the top global names in business, government, and technology.
In addition to consulting, training and speaking on AI, I act as an Editorial Board Member for the AI and Ethics Journal (Springer Nature – global publisher) and as a member of the UK Government's All-Party Parliamentary Group (APPG AI) task force for enterprise adoption of AI. I also run an AI schools programme called Leaders of Tomorrow in Tech, that aims to close the skills gap in education and show young people, especially girls, how STEM and AI will reshape their future careers.
In your most recent book, AI Strategy for Sales and Marketing, you talk about GigCX and Nissan's use of it. What are your views on the future of GigCX and how augmentation not automation is driving the customer experience journey?
I think that GigCX has massive potential moving forward, and that over time that type of experience will become the expectation. Just because customers are shifting towards more digital experiences, that does not mean that they do not still want to be engaged on a human level. It is a bit of a paradox. Customers want the ease, effectiveness, and instant gratification of dealing with a chatbot or automated platform, but they don't want to feel as though they are dealing with a robot. What is interesting about the GigCX model is that it has all the benefits of automated CX, but still maintains that human touch consumers crave. Therefore, the customer experience should not actually be fully automated, as you then lose out on that personable element. Many tools exist today that are so advanced you would never know you are actually dealing with a bot, but even so. Augmentation is definitely the right term, as well as the right approach. Change the process so that AI can handle the more standard things or the tasks that would take too much time or effort for a human to accomplish, such as personalisation at scale. That way, the human is freed up to work on the more complex problems that the AI is not trained to handle, or that requires a bit of human empathy.
What is driving the innovation behind conversational AI?
A bad customer service experience is enough to cause a business to lose a customer forever, so if that piece of the business is not performing as it should be, then you can expect to devote lots of budget to attracting new customers when you could be retaining the ones you already have instead. Businesses are beginning to understand this more, especially as they undergo the rebuilding process post-pandemic. It is that understanding that is driving innovation on the business side. They know they need to retain and that they need to deliver better experiences, but they also know their own limitations and that AI can probably do a better job of managing the load.
From the tech perspective, innovation is being driven by savvier customers. As I sort of touched on before, customers today are smart enough to know they are most likely dealing with a bot, but they do not want to feel like they are. The companies producing these tools and platforms are now having to make them smarter and more human-like to prevent customer frustrations. So that is definitely driving the development of more advanced Natural Language Processing (NLP) tools.
Why is AI so critical at this point? And why should companies be considering it in their business plans?
The criticality for AI at this point stems from the changes in our ways of living, working, and consuming. We as a society have become increasingly digital-reliant in our everyday lives, especially thanks to the pandemic. We know that everything we do online creates a data trail. We are reminded of it every time we visit a website and get an 'I consent to cookies' popup. As a result, we as consumers have entered into a new sort of social contract with the companies we do business with, wherein we allow them to collect and use our data but in return we expect them to use it to generate value for us. That value is usually created in the form of the experience, via personalised offers, adverts, web experiences, and so on. It has become an expectation at this point, and if companies cannot deliver the level of engagement a customer wants, then they will leave to find someone who can.
There are a lot of shifting behaviours and attitudes that go along with this, and honestly at this point things move so fast and so often that no human marketer could ever possibly keep up with it all. But AI can. AI can monitor all of those conversations that are happening across all those different channels. AI can make sense of all that data and instantly turn it into the experiences that customers expect. And this is just the marketing example. The same depth of insight and speed of action can be found in various forms and applications across the business. We have reached a point where businesses need to accept that the world around them is changing, and the market is not the same as it was 20, 10, or even 5 years ago. If they want to succeed in the future, then they will likely need some help. AI is that help.
What are some of the benefits for companies investing in AI?
There are so many, but I would say that some of the biggest and quickest wins will be in time savings. AI is an incredible technology with capabilities that expand far beyond what we as humans can reasonably do. For example, much of the job in marketing, sales, and even business intelligence is driven by having a finger on the pulse of what your customers want. The only way to know what that is is by doing your research and by listening to them. In this day and age, conversation happens constantly across a multitude of channels. We could never possibly keep up with it all, and by the time we caught up it's likely that things will have changed again. So we waste a lot of time trying to do things that AI can do instantly.
I refer to this as the 'dirty, dull, and dangerous' in my first book. These are the tasks that either take a long time to accomplish, are routinised in nature, or are unsafe for a human to accomplish. If we let AI take on the load of those time consuming and routinised yet important functions, then that frees up the human to focus on higher value activities that help to build the business, such as strategy or creative tasks. Time is arguably the most valuable resource in any business, and making the most of it is a major challenge that underpins a lot of different business struggles. AI can help lighten the load and streamline essential activities so that there is time for those added extras you normally would not have the capacity for.
If you had to summarize all the great material in this book, what would you say are the key takeaways?
I think the key message that I am always trying to convey with my books, training and keynotes is that AI is a friend, not a foe. It is reshaping just about every industry and job function at this point, but this technology is here to support rather than replace. We are still going to need human workers in roles such as sales, marketing, HR, and operations. However, the way we do those jobs will change to incorporate this technology. This change is not something to fear, but it is best to get ahead of the curve so that when the future of work arrives, you are properly equipped to deal with it. That is what this book aims to provide, an understanding of what is already happening, what is to come, and what you can do about it.