3 insights from our 2021 Gig Customer Service Report
Article |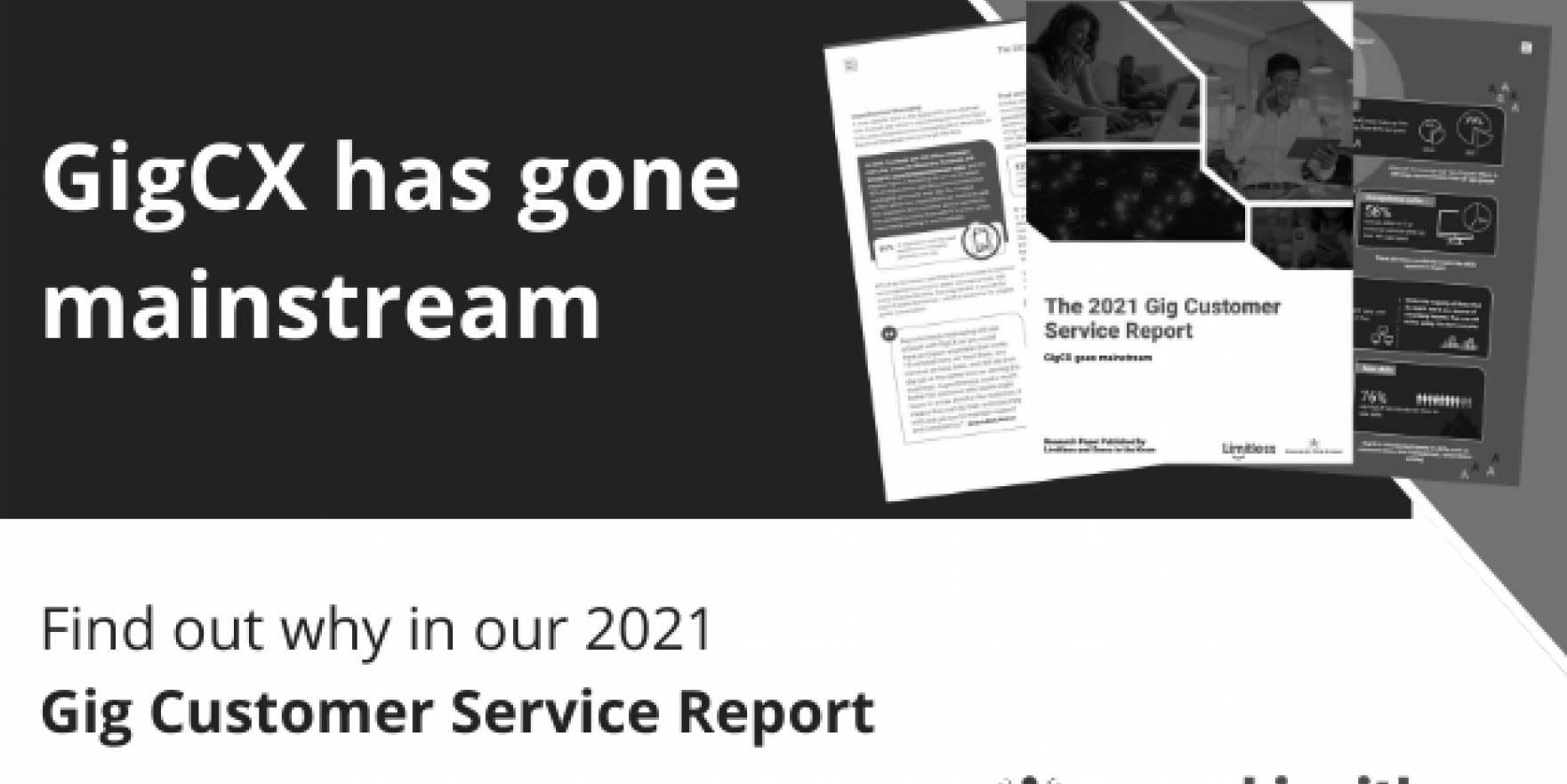 This week at Limitless we were incredibly excited to release the 2021 instalment of our Gig Customer Report. This year it is bigger and better than ever. We interviewed 15 CX leaders from global brands such as Microsoft, Genesys, Zwift, Deloitte and much more, in addition to surveying over 600 current GigCX experts.
This year's report centres on GigCX entering the mainstream, specifically looking at:
Who are the GigCX Experts?
What is driving CX leaders to choose gig
What obstacles are keeping others from following
What the future holds for gig customer service and its place in the future CX model.
You can download the report and read it in full yourself here, but here are the 5 insights I found particularly interesting from our research this year.
Agility and flexibility is more important than ever
2020 tested the robustness of customer service operations worldwide more than any other time in living memory. Sudden closures, panic buying, and governmental regulation changes all provided a stern test for the average CX infrastructure as demand levels peaked and troughed daily, all whilst dealing with closing brick and mortar contact centres.
It's no surprise therefore to see that the ability to handle demand volatility was seen to be the biggest advantage of GigCX in our CX leader survey, proving more popular than improved quality or reduced costs. In our 2020 survey, this was viewed as the least important factor by our GigCX users - showing the massive swing in sentiment in one year. Time and time again in our interviews with industry leaders, the agility of the on demand model that underpins GigCX was noted as a massive advantage - helping to save them time, cost, and worry in hiring large amounts of agents, before needing to let them go in quieter times.
Knowledge and empathy is key
As products, and the technology behind them grow more complex, and interoperability between products increase - the person you have answering customer queries need to be extremely knowledgeable. What our CX leaders loved about GigCX, was that their Experts lived up to their name. By being regular users of the products themselves, they know almost all there is to know naturally. As Jackie Craver, Vice President, Community Support of at home cycling & running virtual app Zwift says, "We have experts in our community that understand mechanics, gearing, and equipment to a level of detail that an employee may never have."
Meanwhile much like last year, empathy was again seen as the magic ingredient your own customers can provide to other customers. Agents often struggle to replicate the same level of trust and empathy as another customer can offer as they often don't use the product themselves. However, in a world defined by lack of contact and stressful situations - it's exactly this empathy people are seeking. This is where Experts' own experiences as customers, can help create a much higher quality interaction. In fact, Brett Frazer (Vice President of Customer Service at Sunbasket, a meal delivery company on a mission to empower people to live their healthiest lives) is even introducing learnings from their GigCX Experts - into their training for their inhouse team.
The days of a single 9-5 job are going
What has become clear over the last year is that the way we work is dramatically changing. Ideas such as multiple sources of income, flexible hours, and working from home were adopted by few before the pandemic - however it's become the norm for many now. Although restrictions will eventually ease, most people have had their eyes opened to a way of working that far better suits their lifestyle - and they aren't keen to let it go. 97% of our Experts believed COVID has driven the need for more organisations to allow for work from home models with 96% believing that it's now important to have more than one source of income. Even the most traditional workers, are switching to a flexible, portfolio career.
This is where GigCX can really help. By allowing our Experts to log in and out on their own time, with no schedules or commitments - they are able to earn when they want and supplement their income. This flexibility combats the problem with attrition traditional call centres encounter, as our Experts are happier and this happiness then shines through in the quality of their responses with customers. Not only that, but by allowing people to work flexibly - our Expert bios (that you can find in the report) show the huge diversity of talent you open yourself up to.
Hopefully if there is anything you take away from these three insights from our report - it would be that GigCX is helping not just the organisations that adopt it, but the customers who it serves - and the Experts who drive it. The time is perfect right now to think about the way you engage with your customers - download our latest GigCX report now to find out how GigCX can help.